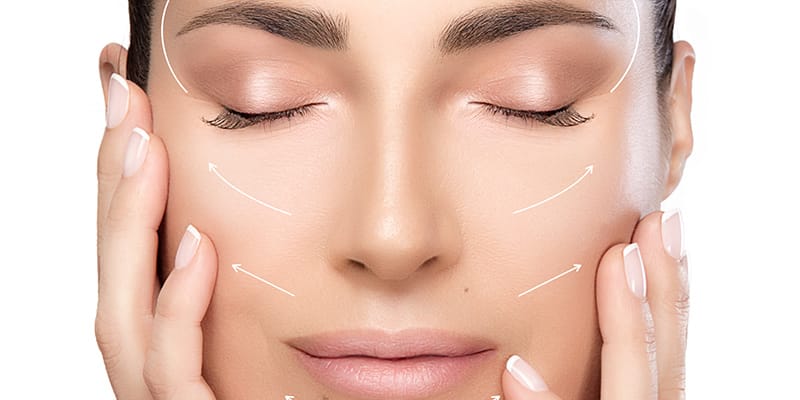 Dermal fillers are a soft injectable gel which is made up of hyaluronic acid. This works with your skin's natural supply of hyaluronic acid to add volume to loose or sagging skin as well as reducing the appearance of fine lines and wrinkles. The overall effect is a fresher, firmer and more youthful look.
The main areas that dermal fillers are used for are:
the outer corner of the eyes (crow's feet)
frown lines
forehead lines
eye lines
mouth lines
smile lines on the cheeks
chin indentations
Fillers can also be used to increase the volume and definition of the lips and cheeks.
Dermal fillers have become popular in recent years as patients enjoy the anti-ageing effects without the need for surgery. At the Twyford Dental in Twyford, we have treated hundreds of patients for fillers from Twyford, Wargrave, Sandford, Reading, throughout Berkshire and beyond.
If you book your appointment online during working hours, we will contact you within two hours to confirm the date and time of your visit.
Benefits of Dermal Fillers
Dermal fillers have transformed the way we look and feel by fighting the ageing process.
Benefits of fillers in Twyford include:
• They can reduce the appearance of fine lines and wrinkles by smoothing and plumping the skin
• It is a quick and painless treatment
• There is no surgery, no scars and no recovery time
• A noticeable effect can be gained in days
• Get a natural looking result with no affect to facial expression
• It can improve self-esteem and self-confidence
• It is suitable for men and women
• Administered by an expert, the process is completely safe
The Process of Dermal Fillers in Reading
First, we will meet with you face to face and talk about what you want to achieve, the areas you would like to treat and any concerns that you have.
 When you are ready, the filler is injected with a fine needle. Most dermal fillers now contain a local anaesthetic which makes any pain minimal. Treatment usually takes about 30 minutes.
 For lip treatments you will be given an anaesthetic which is similar to those used in a dental injection. The results for a lip filler are seen immediately and treatment usually takes about 30 minutes.
Questions and Answers about Fillers
Are Fillers Safe?
Yes. At the Twyford Dental in Twyford, we use only use the fillers that have an impeccable safety record. Dermal fillers closely resemble the body's own hyaluronic acid which means risk of allergies are reduced. Fillers must only be administered by a reputable practitioner who is qualified and who practices in a clean and safe environment. At the Twyford Dental, Twyford, our fillers practitioners are qualified and have been practicing for 10 years.
How Do Dermal Fillers Work?
Fillers work by boosting the skin's own supply of hyaluronic acid which adds volume and rejuvenates the skin to give it a dramatically fresher and more youthful appearance.
Who is Suitable for Dermal Fillers?
Dermal fillers are suitable for most people, men and women, except for ladies that are pregnant or breast feeding.
Are Dermal Fillers Painful?
Not really, most people only experience a mild discomfort as the filler injection is administered.
How Will I Look After Having Dermal Fillers?
Immediately after having the treatment, you may notice some slight redness which settles in a few hours. Application of ice can help, and it can be covered with makeup.
What Can And Can't I Do After Having Dermal Fillers?
Within 4 hours of having fillers treatment we recommend not carrying out vigorous exercise, drinking excessive amounts of alcohol or lying down flat. Otherwise, life can carry on as normal! If you have had fillers administered to your lips, you may want to avoid hot drinks for a few hours.
When Will I Notice a Difference After Having Dermal Fillers?
The result is immediate and once any redness, swelling or irritation has resolved, the full effect will become visible.
How Long Do Dermal Fillers Last?
Every patient is different, but for most people, fillers will last between 4-6 months. Lip treatments should last longer. Repeat treatments have been shown to last longer.
Does Fillers Leave My Face Numb?
No. There is no sensation change to your skin.
What Are The Side Effects of Dermal Fillers?
Fillers are a safe treatment and side-effects are rare. Many patients notice a slight redness, bruising or possible swelling immediately after having the fillers injection and this is normal and should resolve in hours. An allergic reaction to dermal fillers is extremely rare and can be treated with corticosteroids.
Will Dermal Fillers Freeze My Face and Leave Me Expressionless?
No at the Twyford Dental, Twyford, our dermal filler training enables us to minimise any possible loss of facial expression by injecting specific muscles responsible for the wrinkles.