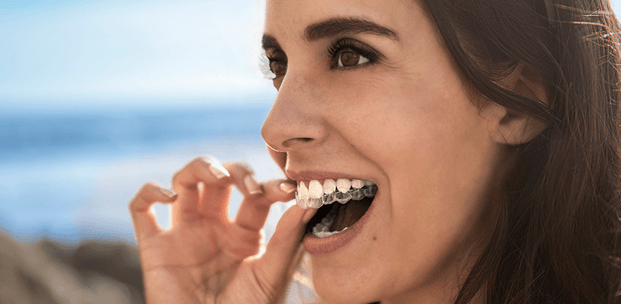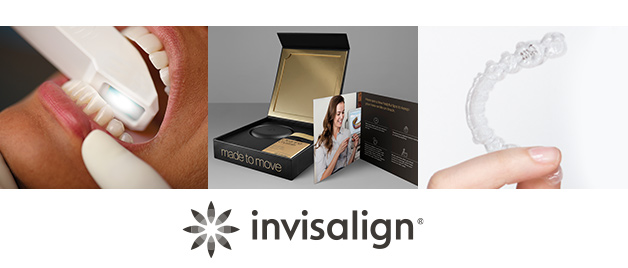 Invisalign is the invisible way to straighten teeth using a series of custom-made, nearly undetectable aligners. And it's been proven effective in both clinical research and in practices nationwide. So whether your teeth are crowded, too far apart or have shifted since previously wearing braces, you'll have a new reason to smile.
Invisalign uses a series of clear aligners that are custom-moulded to fit you. The virtually invisible aligners gradually push and reposition your teeth into a smile you'll be proud of.
Using the latest 3D digital technology
Upon initial examination your dentist decides if Invisalign is right for you. A treatment plan will be made and impressions of your teeth are taken, which are submitted to Invisalign.
Using the latest advances in 3-D computer technology, Invisalign carefully translates your dentist's instructions into a series of precisely custom-made aligners. You wear each aligner in sequence for two weeks at a time and gradually, millimetre by millimetre you will achieve the intended result – straighter teeth. 
You can remove your Invisalign aligners to continue to enjoy a full range of your favourite foods and most importantly for brushing and flossing. Our dentists who have been trained and certified can treat patients using Invisalign technology.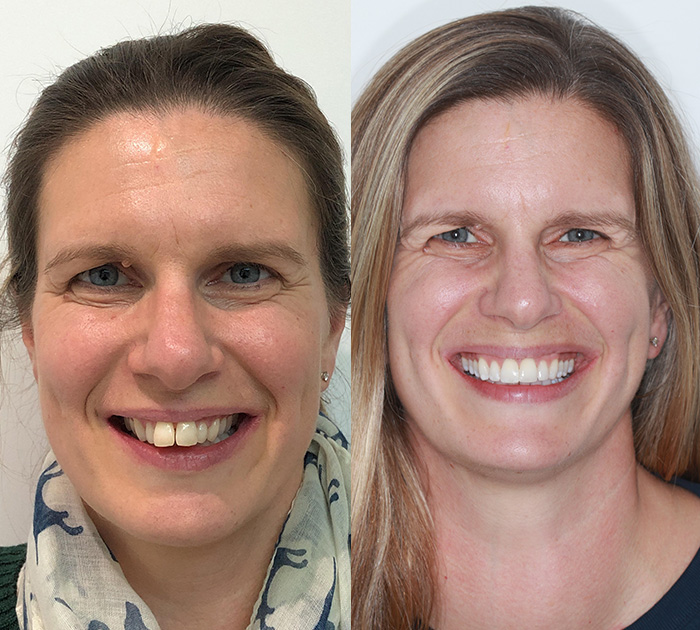 Free consultation to see
if you are suitable for
teeth straightening with
Invisalign!
Frequently asked questions
How does Invisalign work?
Using the latest advances in 3-D technology, Invisalign translates your dentist's instructions into a series of nearly undetectable aligners. You wear each set of aligners for about two weeks which move your teeth gradually week by week, millimetre by millimetre until you've achieved the desired result.
How effective is Invisalign treatment?
Thousands of dentists are treating patients with Invisalign. It works for a wide range of people whose teeth are too crowded or have spaces between them, as well as for those whose teeth may shifted after having worn braces previously.
How often will I have to wear the aligners?
Invisalign only works while you're wearing the aligners. It is recommended that you wear them full-time, day and night, except when you are eating or brushing and flossing your teeth – or as directed by your dentist.
How long does Invisalign take?
The duration of treatment depends on the severity of your case, as that determines the number of aligners you need to correct your teeth. The average length of treatment is 12 months, but only your dentist can determine the length of your treatment.
How much does Invisalign cost?
As with traditional braces, the cost will be based on the complexity of your case and the length of treatment. Many dentists charge the same for Invisalign as they do for conventional braces. An ideal method of spreading the cost of Invisalign is with our 0% interest payment plan.
Main features of this system are:
Remove your aligners to eat, brush and floss.
Change aligners every two weeks.
Your teeth move little by little.
Regular progress checks with your dentist or orthodontist.
Results often in 12 months.
Most people won't notice you're in treatment.
It will not disrupt your lifestyle.
Why people prefer Invisalign
The convenience and ease of use of the Invisalign system have made it the choice of over three million people – who want beautiful smiles.
There are no metal wires or bands to irritate your mouth, and best of all, most people won't notice you're in dental treatment.