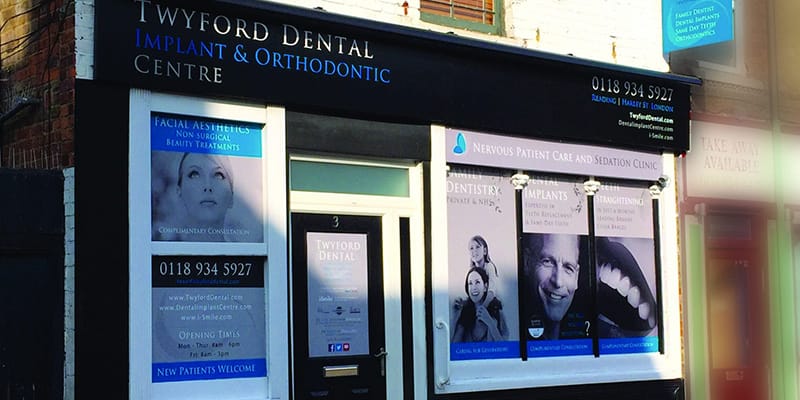 Award-Winning Dentist Reading Services
BDA Good Practice Award-winner
Easy Access by Public Transport & from Central London
Train: 25 Minutes DIRECT from Paddington Rail Station. M4 motorway (Junction 8/9)
Relaxing, Friendly Environment – Equipped with the Latest Technologies
Equipped with state-of-the-art facilities including in-house CT Scanner & digital X-rays
Spaces are designed to be comfortably and relaxing
WIFI and provide complimentary refreshments
Direct contact with your dentist to patient
A relaxed approach to your treatment 
Comprehensive treatment plan and estimate
We respect your privacy and confidentiality
Bespoke treatment plans
We only use award winning dental Laboratories
5 year comprehensive guarantee on all work
Optional in-house Implant and cosmetic insurance policy
0% finance available on all treatment over £750.00
Pain free injections and treatment
"Committed to provide the highest quality of dental care based on long term clinical evidence by utilizing the state of the art diagnostic and treatment tools in a caring and friendly atmosphere by a dedicated team"
We will:
Listen to your needs and explain what realistically we can achieve
Treat you with respect with particular attention to your privacy
Ensure your safety with excellence in cross infection procedures
Communicate all treatment options to you with a clear idea of the investment involved
Give our professional recommendation but leave the final decision absolutely with you
Ensure enough time is allocated to your procedure
Give you the best value for your investment
Keep up to date with latest techniques and current thinking
Performing treatments that involve only the best biomaterials and titanium implant systems on the market
No sales persons – direct dentist to patient contact
Comprehensive consent process and treatment estimate
All work guaranteed for 5 years
Pain-free surgery and sedation for treatment is available
The BDA Good Practice Award
Membership to the BDA Good Practice Scheme demonstrates all our team member's commitment to quality dentistry.
The Good Practice Scheme helps practices to be aware of the nationally agreed standards of good practice. By meeting the requirements of the scheme, dental practices aim to provide the best care and quality dental treatment for their patients.
As these nationally agreed standards of Good Practice change or are added to, the Good Practice Scheme is amended to include these changes. This means that dentists taking part in the scheme are encouraged to keep up to date to provide the best care for their patients.
Good communication between practice members and their patients is the heart of good practice and the scheme encourages dentists to discuss and agree treatment plans with their patients.
If you would like to read more about the good practice scheme and the commitment made to achieve this award and how it will affect you as a patient of the practice, please ask a member of our staff or visit the British Dental Association's website.
FGDP(UK) Implant Accreditation
Dr Avik Dandapat has completed the Gold Standard in Training in Dental Implants at the Royal College of Surgeons. One of the objectives of the demanding course requirements was to work within a practice that had been to an acceptable standard to place and restore implants in terms of surgical protocol, management, sterilization, consent, and clinical skill. He has passed all requirements and the practice achieved the standard required for advanced Dental Implant treatment.
At The Twyford Dental at Twyford Dental, we offer a personal service for our dental implant patients. Please contact us on our freephone number 0800 917 7551 . We are happy to arrange transportation and your local hotels stay.
Please do contact us should you have any questions about dental implant treatment for missing teeth.
If you book your appointment online during working hours, we will contact you within two hours to confirm the date and time of your visit.