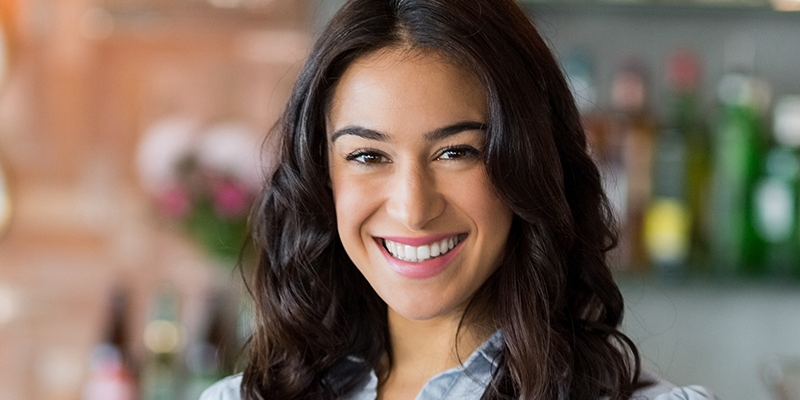 How Cosmetic Dentistry Can Improve Your Smile
A survey of adults found that:
Over 92% agree that an attractive smile is an important social asset
88% say they always remember someone with an especially attractive smile
74% agree that an unattractive smile can hurt a person's chances for career success
Only 50% were satisfied with their smile
 Your smile is one of the first things that people remember about you. Are you happy with your smile? Do you lack confidence when you smile or would like to improve it?
If you book your appointment online during working hours, we will contact you within two hours to confirm the date and time of your visit.
What is Cosmetic Dentistry, Reading?
Cosmetic dentistry is another way to improve your appearance, so just as you might change your hairstyle, patients are now opting to straighten, lighten, re-shape and repair their teeth.
If you're not completely happy with your smile or your teeth, our cosmetic dentist in Twyford can provide affordable, cosmetic dentistry using quick and painless treatments. Use cosmetic dentistry to fix the colour, shape and condition of your teeth so that you have a dazzling new smile!
At Twyford Dental we have treated thousands of patients from Reading, Sandford, Wargrave, Twyford and throughout Berkshire who have discovered that cosmetic dentistry has enhanced their smile and improved their life!
Cosmetic Dental Treatments in Twyford
If you have teeth which are crooked, stained, chipped, broken or have gaps then there are several cosmetic dentistry treatments which can be used to transform your smile.
Dental veneers are thin strips of tooth-coloured porcelain which are used to cover the front of the tooth and will improve the appearance as well as offering strength and protection. They are often used by celebrities as they look natural and are a fast, non-invasive form of cosmetic dentistry. Dental veneers are used to improve the appearance of stained teeth or chipped teeth and can also be used to help close small gaps between the teeth.
The Twyford Dental in Twyford uses CEREC technology which means you can now have your dental veneers fitted and enjoy your new teeth on the same day that your treatment started.
The Twyford Dental in Reading is pleased to offer Lumineers and DaVinci dental veneers. Both types are ultra-thin strips of porcelain which means they can be fitted without filing or removing your existing teeth. This means the treatment is completely pain-free and gives a dramatic smile makeover.
Teeth whitening is a hugely popular form of cosmetic dentistry as patients look to lighten their teeth and strive for a Hollywood smile. We have treated thousands of patients from Twyford, Reading and throughout Berkshire who are looking to whiten teeth.
Teeth can get stained or discoloured for a variety of reasons including smoking, drinking too much coffee, tea and red wine. Teeth whitening can safely and quickly improve the appearance of your teeth. We offer two forms of teeth whitening from Whitewash Laboratories which suit all budgets.
Beam Teeth Whitening is our in-practice system, where a gel which is applied at our surgery followed by LED light to accelerate the whitening. Afterwards, you will be given a kit to take home to improve the shade and keep the results lasting for longer.
At Home Whitening Trays is the second form of teeth whitening that we offer at Twyford Dental. Impressions are taken of your teeth at our surgery, and these are used to make bespoke teeth whitening trays which only fit your teeth. These are then worn for a certain amount of time during the day, or they can be worn overnight.
The most permanent, natural looking way to replace a missing tooth or multiple missing teeth. At the Twyford Dental in Twyford, we pride ourselves on this being our specialised form of cosmetic dentistry. We have treated thousands of patients with outstanding results. Learn more about dental implants by clicking here.
If you have crooked, overcrowded, or gaps in your teeth, then dental braces could be the best form of cosmetic dentistry to improve your smile. 
At the Twyford Dental in Reading, we offer two types of adult braces.
Invisalign braces are proving to be an extremely popular form of cosmetic dentistry throughout Reading, Berkshire and the U.K. Patients love that they can straighten their teeth invisibly! This form of adult braces are popular because there are no brackets or wires. You can remove them to eat, drink and take them out for special occasions. As a series of clear, custom-made aligners which are changed every 2 weeks, Invisalign braces have revolutionised the way that adults can straighten their teeth and improve their smile.
6 Month Smiles is another form of dental braces which use tooth-coloured brackets and wires to gently and quickly move teeth into their correct position. These braces focus on moving the teeth at the front of your mouth which means that treatment time is greatly reduced so that most cases work within just 6 months.
Cosmetic dentistry treatments have become increasingly popular as patients throughout Reading and Berkshire realise that they no longer want to put up with chipped, stained, crooked or unattractive teeth. Whatever your concern about the appearance of your teeth, we're sure that our cosmetic dentist in Twyford can help.
Contact us for a free consultation.
Before and After Cosmetic Dentistry
Our dentists bring at least 20 years' experience to our practice, so you know you'll be in safe hands when you put your trust in Twyford Dental.
Expect a friendly welcome, state-of-the-art equipment – including intra-oral scanners and 3D radiographs – and treatments with minimal downtime.